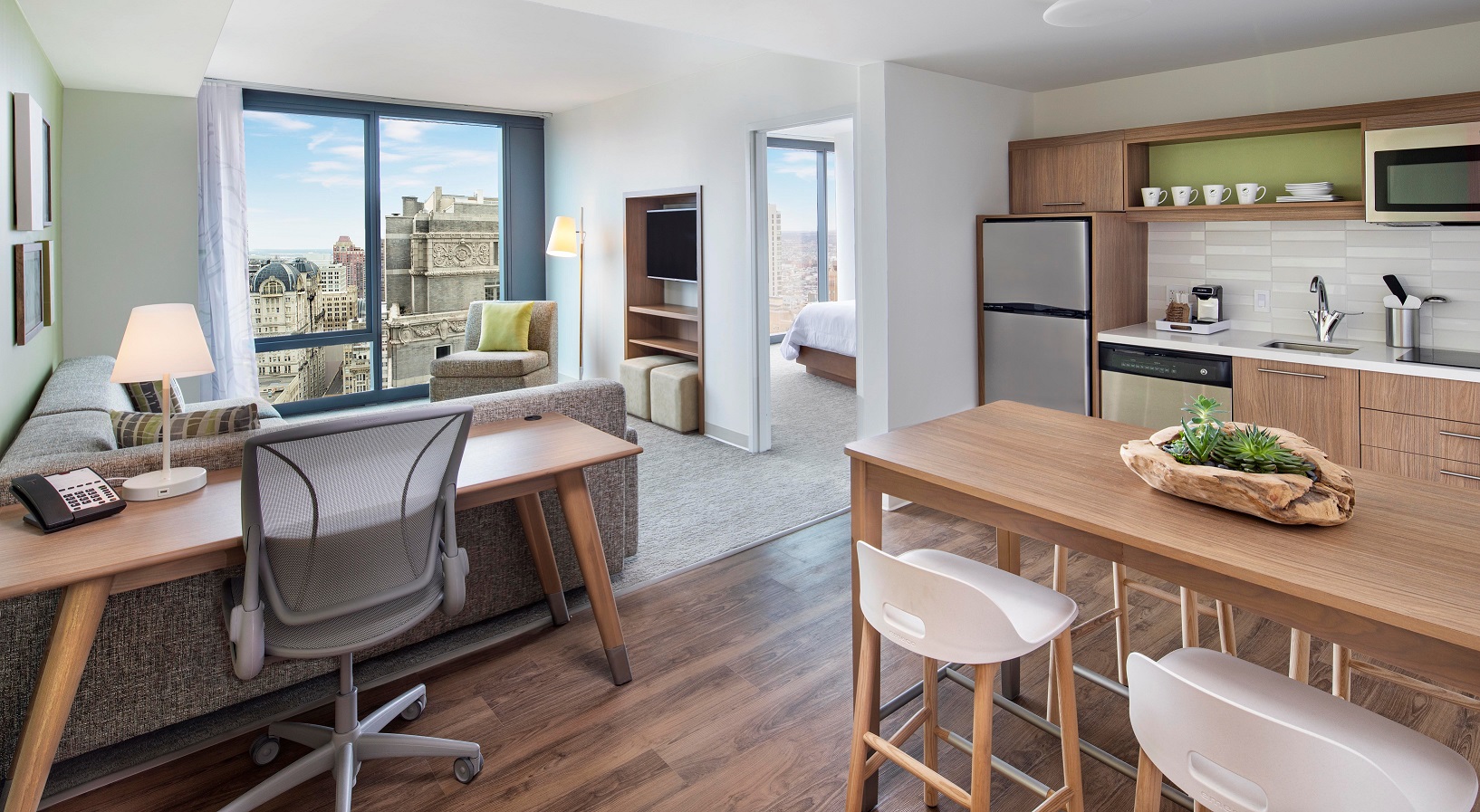 Enjoying the Avenue of the Arts with the whole family is easier than ever when guests stay at the Element by Westin Philadelphia Downtown. An eco-friendly hotel option just blocks away from the city's premier theaters and restaurants, Element Philadelphia lets you experience the city's thriving arts and culture while keeping your carbon footprint low. The hotel offers state-of-the-art in-room kitchens, a healthy complimentary breakfast, and its signature Bikes to Borrow bike-share program, making it the ideal destination for your family's extended stay. Your furry friend will also feel like they never left home with Element Philadelphia's Love that Dog program. Guest rooms include a signature dog bed, treats, and water bowls.
Begin your days at the signature Rise, with a breakfast which focuses on providing food and beverage options that prioritize fresh and healthy ingredients. Rise features a Chobani Yogurt Bar, chia pudding, fresh berries, whole fruit, freshly baked pastries, egg sandwiches, and other healthy hot breakfast options. In the evening from Monday to Thursday, Element Philadelphia hosts Relax, where you're invited to unwind in the Sky Lobby with complimentary local beer, wine, and cheese.
The hotel's interior draws inspiration from Nordic design and nature, creating an environment that is both relaxing and uplifting. 460 bright and modern guest rooms with floor-to-ceiling windows boast impressive views of Philadelphia's iconic architecture and skyline. The Avenue of the Arts, Reading Terminal Market, and The Franklin Institute are all within walking distance. Element Philadelphia is perfectly situated in the heart of the city and allows you and your family to visit every iconic Philadelphia destination.
Element Philadelphia is green from the ground up and is a smarter, better place to stay. When choosing materials, the design team pioneered sustainable design that improves hotel air quality, minimizes pollutants and chemicals, and gives you ample access to natural light, resulting in a cleaner, healthier environment.
Element Philadelphia is the perfect choice for your stay in Philadelphia. Whether you're using the massive state-of-the-art meeting space for a company conference, visiting the city with loved ones to celebrate or take in a show, or just looking for a city getaway, Element Philadelphia and its staff are sure to provide you with the experience that you're looking for.