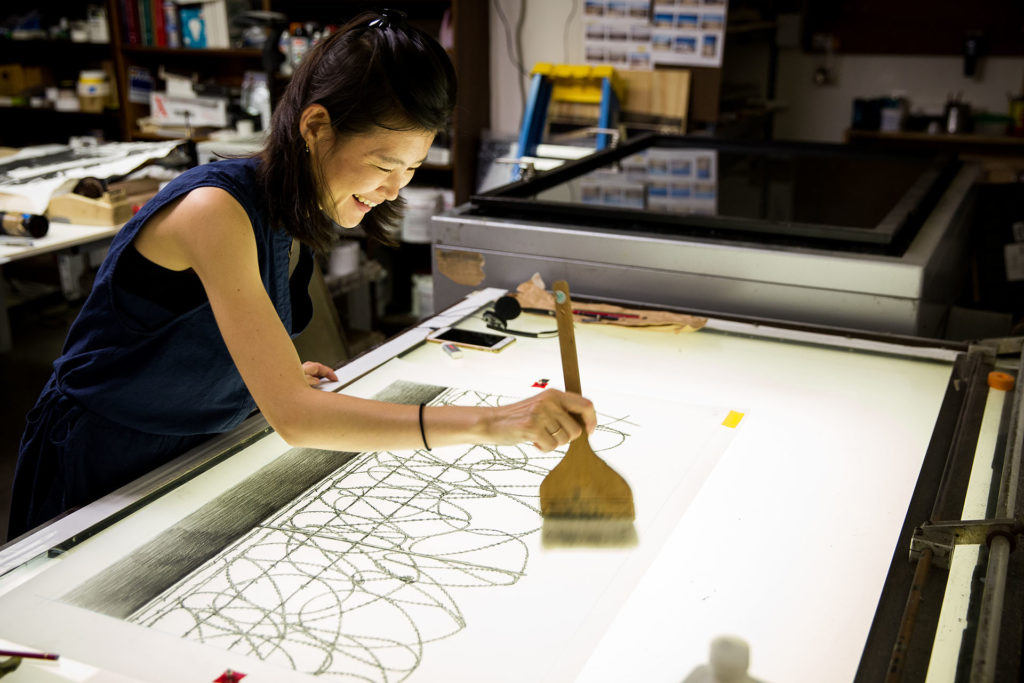 On October 15, 2022, the Brandywine Workshop and Archives will hold its 50th Anniversary Lifetime Achievement Awards Gala to celebrate five decades of programming in support of contemporary diverse artists, furthering an understanding and appreciation of the art of original printmaking, and advancing the inclusion of ethnically diverse artists in art history and art education. The celebration will include a tribute to the lifetime achievements of three individuals: art educator Bernard Young, PhD, art historian-curator Valerie Cassel Oliver, and artist Julie Mehretu. This milestone event will take place at the historic Pennsylvania Academy of the Fine Arts on downtown Philadelphia's Avenue of the Arts.
The Awards Gala is a major fundraising event that supports Artist Residencies and college internship programs. The Gala is sponsored by patrons who subscribe to acquire a limited-edition print (or prints) created specifically for each Gala by its honored artist (or artists). Knowing the long and distinguished history of BWA and its Lifetime Achievement Awards Gala, patrons are assured of the quality and value of the featured artist's past body of work and their newly editioned print.
Since 1976, the Brandywine Workshop and Archives has honored individuals who have excelled in the fine arts as artists, curators, art historians, patrons, and collectors. In addition to the recipients' achievements in the field, the awards also recognize their contributions as educators and/or advocates for social change. Lifetime Achievement Award honorees are individuals whose contributions to the fine arts and devotion to creating a better and more just society and world are exceptional—they have, for decades and even generations, been visionary and proactive in responding to their communities' needs by serving as mentors and role models who share their art, talents, and insights to encourage the next generation.
Brandywine Workshop and Archives 50th Anniversary Lifetime Achievement Awards Gala
Date: Saturday, October 15, 2022
Time: 6:30-10:45 PM
Location: Pennsylvania Academy of the Fine Arts, 118-128 N. Broad Street