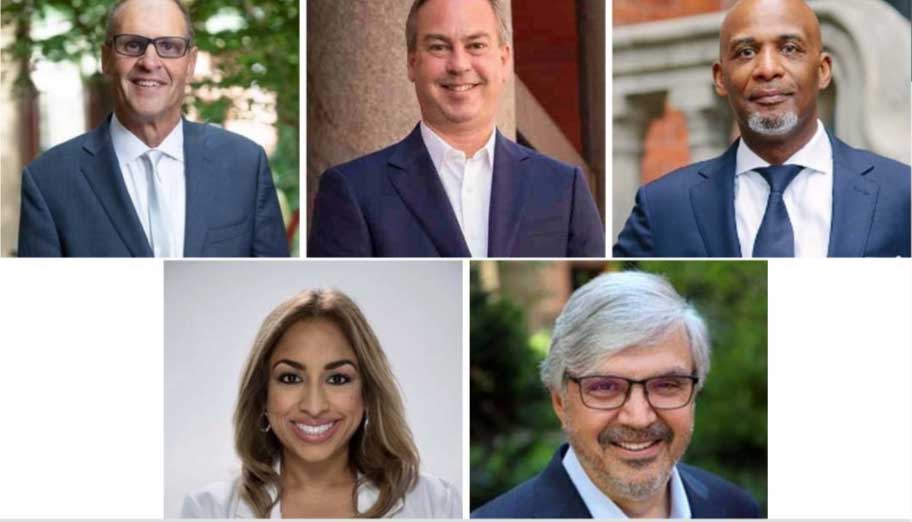 Pictured (l-r): David Yager, Brook Lenfest, Michael A. Bowman, Dr. Thanuja Hamilton, and Thomas McCarthy.
Dianne Semingson, board chair of Avenue of the Arts, Inc., the organization that champions investment in Philadelphia's theater and cultural arts district on South Broad Street, has announced the addition of five new members to the organization's Board of Directors, effective this month. The new board members were approved at the group's December board meeting.
They include EEO attorney and consultant Michael A. Bowman, Esquire; sleep specialist Dr. Thanuja Hamilton, developer Brook J. Lenfest, former Cigna CFO Thomas McCarthy and David Yager, president of University of the Arts.
"We're honored these five outstanding individuals, exemplary in their own fields as well as proven community leaders, have volunteered their time to join AAI in its mission," Semingson says. "As we look ahead to our 30th anniversary in 2023, AAI is poised to lead a renaissance on South Broad Street as the City begins to recover from the pandemic. These leaders, along with our entire board, the Friends of the Avenue, and our many stakeholders are dedicated to preserving the Avenue of the Arts as one of America's great streets in one of America's great cities."
New AAI Executive Director Laura Burkhardt, who joined the organization in June 2021, adds "the Avenue is the centerpiece of our beautiful City. I'm excited to have additional expertise on our board to ensure that South Broad Street gets the resources it deserves and that AAI has every ability to promote this important corridor."
About our new board members:
Michael A. Bowman, Esquire
The principal of two firms: Rittenhouse Strategies, a diversity-focused consultancy, and Impact Law & Strategy, a law firm focused on general counsel services, real estate, and employment. Mr. Bowman has extensive experience in equal employment opportunity matters, diversity strategy, and procurement strategy, and he regularly consults and advises companies large and small on the creation and development of proactive and impactful EEO and diversity policies. In his law practice, Mr. Bowman often acts as outside general counsel to medium-sized companies with no in-house legal infrastructure.
Thanuja Hamilton, MD
A double board-certified Sleep Medicine Specialist. She completed her Fellowship in Sleep Medicine as well as Internal Medicine at Drexel University College of Medicine at Hahnemann University Hospital where she was Chief Fellow of her program.
Hamilton is a strong advocate of healthy sleep, promoting sleep as an important factor in achieving good mental and physical health. She serves as Medical Director of Jefferson and Virtua Sleep Labs and also has been featured on local and national radio and television programs.
Brook J. Lenfest
An accomplished real estate investor and developer, is the President and Chief Executive Officer of NetCarrier, Inc., a leading integrated communications service provider.
He brings to NetCarrier more than 25 years of experience in telecommunications at Suburban Cable, which was the largest cable company in the Philadelphia area before it was acquired by Comcast Corporation. In 2000, he founded the Brook J. Lenfest Foundation, which helps disadvantaged students in the greater Philadelphia region. pursue their dreams through educational opportunities. He is the lead funder of the Philadelphia-based charter school system, Mastery Charter Schools, which now operates 24 high-performing middle/high schools.
Thomas McCarthy
Has more than 35 years of experience in healthcare, insurance, and financial services businesses, including more than 30 years with Cigna Corporation. He was Cigna's Executive Vice President and Chief Financial Officer from 2013 until retiring in June 2017. Prior to his role as CFO, Mr. McCarthy was Vice President, Finance. McCarthy also had executive roles with USAA and Kemper Insurance. In addition to serving on two corporate boards, McCarthy also serves on the Board of Directors of Habitat for Humanity of Montgomery and Delaware Counties and on the Board of Trustees of the American University of Rome.
David Yager
Joined the University of the Arts in January 2016 as the institution's fourth president since it gained university status in 1987. An accomplished visual artist, photographer, and designer, he also has an extensive background as an academic, a researcher utilizing design to improve the healthcare space, an entrepreneur, and a business executive. Yager has launched a number of major initiatives at UArts, including the first comprehensive fundraising campaign since the institution's founding in 1876. During his tenure, UArts has begun millions of dollars in campus construction and renovation projects. Prior to joining UArts, President Yager served as the dean of the Arts Division at the University of California, Santa Cruz. Previously, he spent 23 years at the University of Maryland, Baltimore County where he was a distinguished professor and Wilson Elkins Professor of Visual Art.