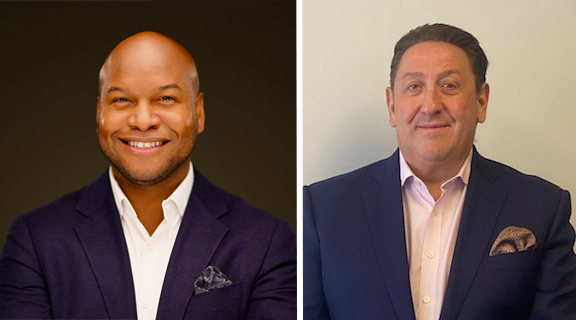 Dianne Semingson, board chair of Avenue of the Arts, Inc., the organization that champions investment in Philadelphia's theater and cultural arts district on South Broad Street, has announced the addition of two new members to the organization's Board of Directors — Michael Newmuis, chief external affairs officer at Visit Philadelphia, and Salvatore J. Patti, senior vice president and director of commercial banking and wealth management at WSFS Bank.
"We welcome these prominent business and community leaders to the AAI Board at such an exciting time as we prepare to celebrate AAI's 30th anniversary in 2023 and are absorbed in a Vision Plan designed to revitalize the Avenue," says Semingson. "Our entire board, the Friends of the Avenue of the Arts and our many stakeholders on the Avenue have an eye on the future and that includes preserving and enhancing the Avenue of the Arts as one of America's great streets."
AAI Executive Director Laura Burkhardt adds that "Michael and Sal's connections and skills will help us continue our momentum as we reimagine what the Avenue looks like in the future and collaborate with the City, the State and our partners to generate the resources to make that vision a reality."
Recognized in 2022 by the Philadelphia Business Journal as a "40 Under 40" honoree and City & State PA as being among Pennsylvania's most influential LGBTQ+ leaders, Michael Newmuis (pictured, left) brings more than 15 years of professional achievement in organizational leadership, marketing and communications, economic development and civic affairs to the AAI board. Prior to joining Visit Philadelphia, Newmuis was director of finance and operations at Transport Marine Surveyors and held positions managing government programs at Independence Blue Cross. Newmuis is on the board of the Independence Visitor Center Corporation and Global Philadelphia Association. He is a graduate of the University of Pennsylvania.
Salvatore J. Patti (pictured, right) is an experienced and esteemed commercial banking and wealth management executive who has produced multi-million-dollar revenue and net interest income for his clients through partnerships and his well-documented influence as a connector of people and organizations. Prior to his position at WSFS, Patti was regional managing director and senior vice president of PNC Wealth Management. Serving on the executive boards of a number of charitable groups, Patti lends his expertise in financial strategy and management to diverse, prominent organizations including: The Philadelphia Industrial Development Corporation (PIDC), where he is Chairman of the Board, Ed Snider Youth Hockey Foundation, Thomas Jefferson University – The Kanbar College of Design, Engineering & Commerce, The Union League of Philadelphia – Strategic Planning Committee, The Rowan University Foundation and is Mid Atlantic Regional Vice President for The National Italian American Foundation.
The Avenue of the Arts draws 2.8 million visitors a year, generating more than $1 billion in economic impact. AAI and its associated organization, Friends of the Avenue of the Arts, work to promote investment, beautification and marketing of the Avenue of the Arts to make the Avenue a great place to live, work, shop and play.